Audiogram Portal
The audiogram portal is the launch point to the audiometric module. From here, you can see the three most recent audiograms for a given patient. The most recent audiogram appears on the far left and on the patient's home screen. The screen can be used as a teaching tool to demonstrate to the patient. However, hearing may change over time. ( Note that an multi-audiogram animated option is available under the audiogram print options screen.)

From the screen, you can highlight the audiogram with preset customize symbols or display the audiogram with a more vivid gradient background.

Most often, you'll use the audiogram portal to either create a new audiogram ( by clicking the gray and green button in the upper right of the screen) or to navigate to one of the following audiogram screens
start screen
air conduction
bone conduction
speed scores
immittance
list view (explained that the bottom of this page)
print options
patient display screen
SOAP notes report generator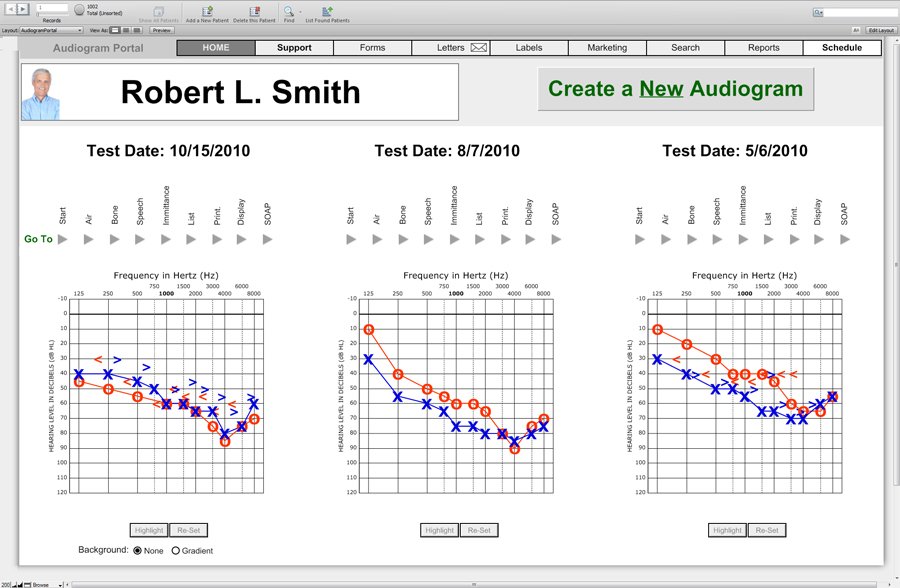 The audiogram module in HearForm serves four primary purposes.
It stores unlimited audiograms per patient.
It prints those audiograms in physician reports.
Audiograms are automatically merged into supplier order forms.
Helps you to educate patients about their degree and type of loss.
*The list view is essentially an Excel type table that allows you to search for and display audiograms based on any number of criteria. For example, you could search for all audiograms for an individual patient and display those in a list or you could search for all audiograms that match particular type of hearing loss within any date range. This might come in handy for very specific, targeted marketing of individual patient groups.