Tables (Excel like View)
HearForm allows you access to the raw data you enter. This allows you to search for any data. If HearForm is like a large filing cabinet, tables are the drawers where information is stored.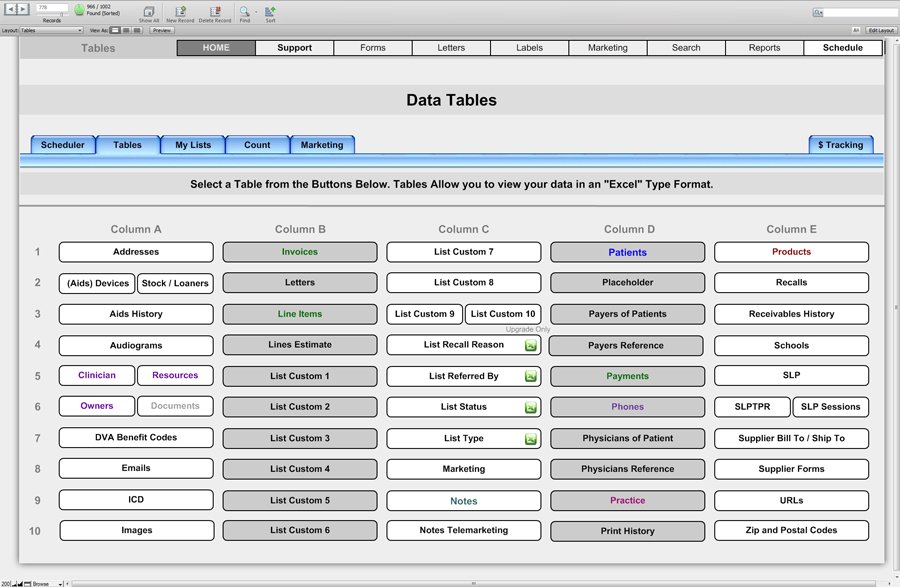 When you create a new patient record, HearForm automatically attaches a unique identifier number (Key) to that patient. This allows each patient to have unlimited address, phone numbers, notes, audiograms, hearing aids, invoices, etc.
Each patient address is stored in the Addresses table, along with the unique key, identifying that address with a given patient.
Each invoice is assigned to a given patient by that key but also has its own unique number called a Key Invoice Number. This allows each invoice to have unlimited line items and payments attached.
All of this information can be accessed through the Report > Tables Tab.
Each Table will display information in an Excel type format, with columns and rows.
Each Row is an individual record, while each column represents a field.

Columns can be sorted by clicking on the title header of each column or by right clicking in the desired field and selecting "Sort Ascending" or "Sort Descending."
Columns may be resized by dragging the edge of the title header
Columns may be moved by clicking on the title and dragging the column to a desired location.
You can perform searches on each field or a combination of fields.
To show All Records, after a find, press CTRL+J.
Data may be exported from each table using the Export function explained earlier.