Financial Tracking
The Financial Tracking section (within the Invoicing module) provides a number of reports and opportunities to track your financial information. Please scroll below the screenshot for additional detail about this powerful module.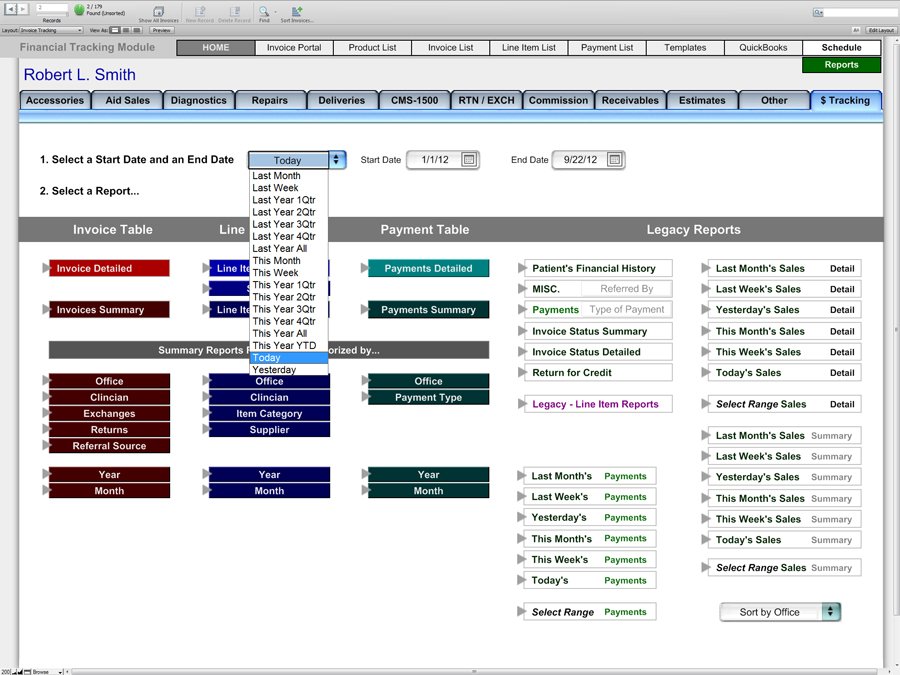 After you've selected a date range at the top of the screen, you can choose from literally hundreds of support options...

Our reports are based upon tables. In the financial reporting module, those tables include invoicing, line items and payments. Within each table, reports can be viewed in a detailed table view or viewed as a summary report. Additionally, those summary reports can be further sub-categorized to make your reports as specific as needed. The video link at the top of the screen should give you a good idea as to the flexibility of this reporting module.

From this screen you can view a number of our older "legacy reports." those legacy reports, shown on the right of the screen, display...
A complete "date range specific" financial history for any given patient. (This might come in handy if the patient requests a year and statement of all purchases
A variety of miscellaneous reports, including a list of all referral sources and referral details
Revenue reports that can be further sub categorized by payment type and type detail ( such as cash, check, credit card and then what type of credit card… Visa, MasterCard, American Express, Discover and Care Credit)
Extensive line item reporting
Revenue based on common date ranges or any specific date range
Detailed invoice reporting that are essentially a mini list of invoices along with line item in payment detail
A summary report that just gives the essentials... invoice number, invoice date, patient name, sales amount, total tax, total amount, total paid and balance due.