Referring Physicians
Each patient can have one or more physicians assigned to them. These physicians are assigned from a list of physicians that were set-up in the Physician Reference table.

To assign a physician to a given patient, click into the first field titled "Physician Code."

Choose a physician code from the drop-down list. You should not try to assign a physician to a patient through any other method.

The only other editable field on this screen is the "Primary/Secondary" field. The highest ranked physician will automatically be inserted to a HCFA form at the time it is created.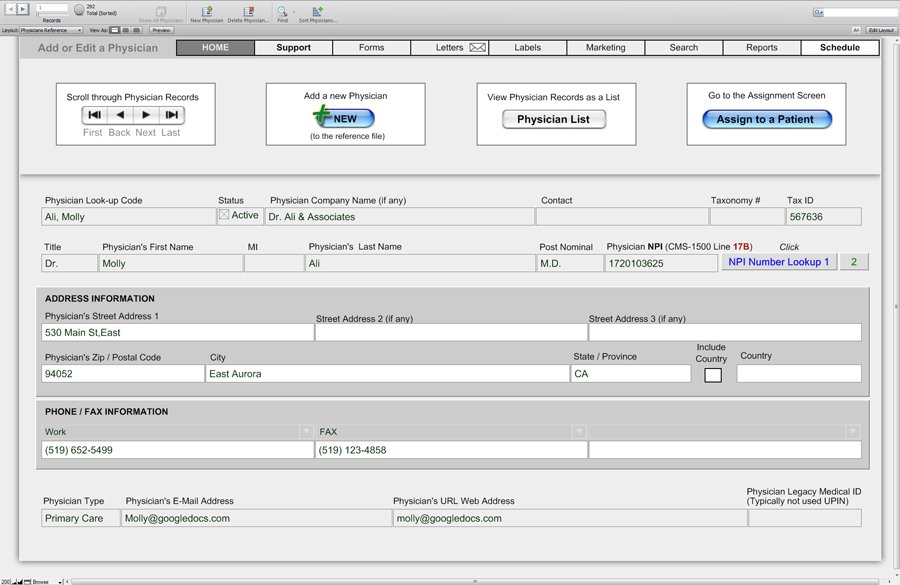 Physician Set-Up
From the Scripts menu, select Physician Set-up. This will open a new window for the Physician's Reference File.
As with the Payer reference file, The "Look-up Code" can be any description of your choosing. Obviously, you'll want the code to be easily recognizable. We recommend that you be consistent with your look-up codes. For example: A code for Dr. Chris Smith could be Smith, Chris or SmithChris, etc. Just be sure to use the same naming convention for each physician.
Each Physician that is added must have a unique ID (Look-up Code.)
You can browse through the Physician listing by using the arrows located on the top left and top right sides of the screen.
To add a new Physician to the reference file, click the NEW button. Add information, as desired. (Remember, each new physician must have its own unique Look-up Code.)
To delete a record from this section, click in the "Look-up Code" field, then move your mouse to the "Records" drop down menu and choose "Delete." An alternate method is to press Ctrl + E. Please use caution when deleting a record because the deletion is permanent and the record is irretrievable.
To make the physicians that you use most often more easily accessible, simply insert a space in front of the payers Look-up Code and those names will appear first
on the patient assignment list.
The Physician Reference Detail screen has a link to
http://www.npinumberlookup.org/ for easier Physician NPI number look-up. (Of course, you could also call the physician's office and ask them directly.)