Chart Notes
It is helpful to have a record for each time you have contact with a given patient. The chart notes area can keep a history of all important information you want to save.

To save entry time, your staff can quickly enter a chart note by clicking the desired "Quick Entry Button" above the note entry area. There are 40 customizable buttons that may cover the majority of your typical chart note needs.

If a patient comes in to purchase some batteries, simply find the patient record and click the quick note batteries button. A note will automatically be created, along with the date (and time shown elsewhere), and the note creator (based on the account log in name – if used.) You can override the date and creator fields by clicking and editing.
Each time you click a quick entry button, the selected word, phrase, sentence or paragraph is added to a previously created note.
You can print All Notes for that patient.
Click the blue "Expand" button to see the note in a larger field.
You can go to the chart notes launch page by clicking the Chart Notes Tab.
If you have been given the right to delete notes, you can easily do so by clicking the red "Delete" button at the top right of each note.
You can click into a note field and start typing. You do not have to use the quick entry buttons. You can also paste text from another program directly into the notes field. you can also use a program such as Dragon NaturallySpeaking to dictate your comments directly into the note field.
All notes are fully searchable. For example: , you can easily search for all patients who have chart notes that contain the word "cerumen" or "damaged."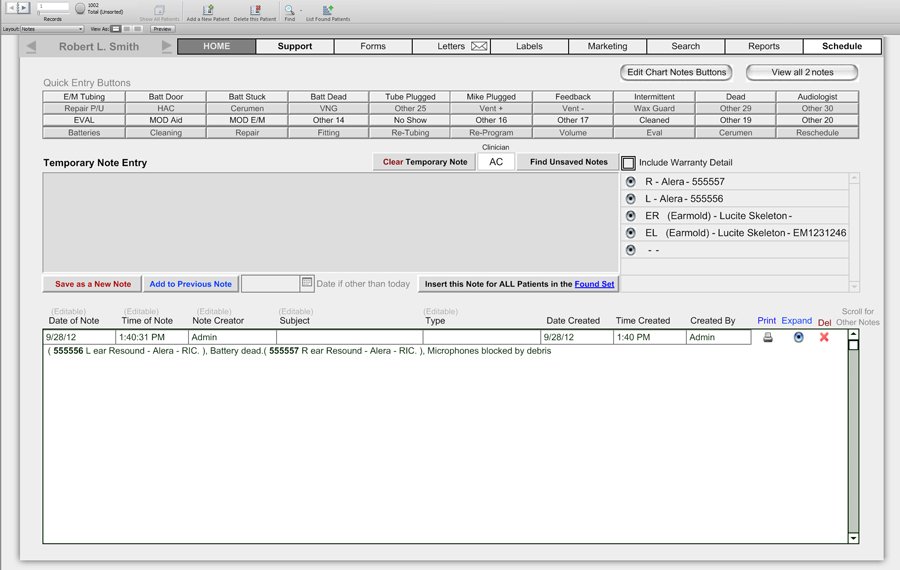 Chart note quick entry buttons can be customized with your specific text from the setup area. chart notes can be printed either ascending or descending, as desired. You can choose what type of character should separate concatenated notes by editing the field in the lower right of the setup screen. For example: instead of using a comma to separate notes, but a dash (–) can automatically be entered between notes.