HIPAA Forms
Patient information is automatically merged into these and most other forms. This reduces double entry and adds a high degree of professionalism. HearForm contains the following HIPAA template Forms:
Acknowledgment of Disclosures
Accounting Disclosures Log
Authorization Disclosure (2)
Business Associates Agreement
Consent for Treatment
Patient Compliant
Privacy Practices Notice
Receipt of Notice (2)
Request to Inspect and Copy
Request for Correction
Facesheet
To change (edit) a desired form, click to GoTo button. Enter Browse Mode and use the text tool to modify any text. (You must open HearForm with appropriate privileges in order to edit forms and letters in layout mode.)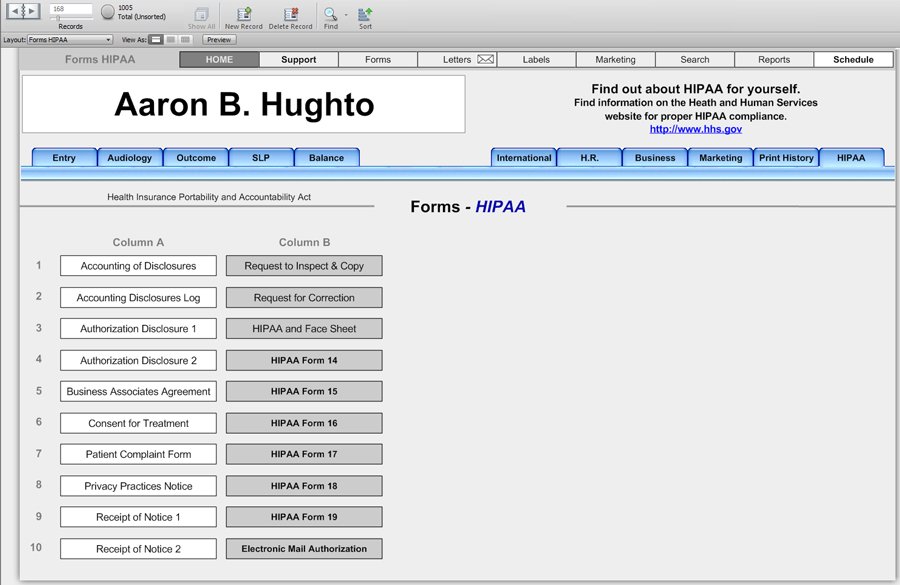 * Note: HearForm offers these forms simply as a guide. It is the responsibility of each individual practice to modify HIPAA forms so that they are within compliance of current laws. HearForm takes no responsibility for the content of these forms, but again simply provides them as a template and a starting point. HearForm maintains no liability for the content of any forms contained within our software.